Profile
My Left Ear….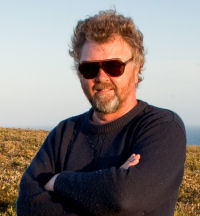 When I was about eight or nine or so, down the back yard in Mum and Dad's garage, I 'played' a completely useless, home-made, 'pretend' guitar, made from one of my Mum's old tennis racquets. It had a biscuit tin tied to the racquet strings and guitar 'strings' made from some all-the-same gauge fishing line, stuck into the racquet handle with sewing pins. Well, we were very poor, but we never went hungry. Also down in that garage, I found an old violin, but that is another story for another time. My greatest treasure at the time, was my small, Astor, portable, transistor radio, basic one, nothing flash, just a volume control and a station dial. It was always close by, always using up batteries and until my Dad commandeered it for himself to listen to the horse-racing, would probably have had to have been surgically removed from my left ear. I would listen to everything on the 'Top 40', Beatles, Rolling Stones, Peter, Paul and Mary, Dusty Springfield, Beau Brummels, We Five, Little Millie, Manfred Mann, The Seekers, The Animals, Freddie and the Dreamers, Shirley Bassey, The Easybeats, The Hollies, Lulu, Sandie Shaw, Marianne Faithfull, The Vogues, P.J.Proby, Jay and the Americans, Herman's Hermits, The Kingston Trio, Cilla Black, The Dave Clark 5, The Byrds, The Monkees, Peter and Gordon, The Yardbirds, The Throb, The Knickerbockers, The Loved Ones, Gene Pitney, Tom Jones, The Searchers, Mel Torme, The Moody Blues, it didn't matter to me whether they were American, British or Australian, I loved 'em all.  If I wasn't out riding my bicycle, with the radio held against  my ear, then most of this part of my life was spent down in that garage and I sang and sang and sang, to all those fantastic songs, with attendant radio and racquet guitar. This was the soundtrack of my life.  Normie Rowe, Billy Thorpe and the Aztecs, Elvis, Cliff, all the Greats, a fantastic time in a boy's life……. Well, at some point, life changed, and I wasn't able to play my tennis racquet guitar and sing to the radio anymore in the garage. Therein lies yet another story for another time. Time passed, life moved on. Eventually, the time came to buy my first records. First, was Buffy St. Marie's LP, 'Fire and Fleet and Candlelight', bought in a second-hand shop in a quiet, distant, petrol station-pub-general store-type country town. Then came Harry Belafonte's LP, 'Dark As A Dungeon', followed by a K-tel- type of compilation LP called, 'Blues At Sunrise'. I still have Buffy's album in my collection, but the other two have long since gone. I think I know who still has the Harry Belafonte one. Eventually, many years later, in another lifetime, finally, I was able to buy my first record player. That's right I didn't have a record player for all those years. It was a cheap ($19) Koala brand, portable, brief case style, mono with a tiny speaker, plywood covered in wallpaper. But I sure gave it a hammering, it would play all those records and those of my friends. By this time we'd moved on to Jethro Tull's Aqualung, Deep Purple in Rock, John Mayall, Cat Stevens, Johnny Winter, Chuck Berry, Grand Funk Railroad, Ted Nugent, Leo Kottke, Blue Oyster Cult…….That poor little record player had by then, long since been replaced, but it never let me down once, the stylus had to be replaced regularly. The sound was terrible, but the music was a symphony to behold, and the record collection grew.  Sometime, in that time frame, along came my first real guitar, a $17 cheapie with steel strings and in a cardboard box 'guitar case', it was terrible, and music was an impenetrable brick wall.   Next was a Yamaha classical guitar ($30) with nylon strings, but within two months it had been destroyed, someone had tripped over it. Then came my first serious guitar. It was, by then, an old Eko, 6 string,  J54,  Jumbo, acoustic guitar, circa 1965, Italian, beautiful, heavy, solid. It still plays beautifully and I still have it.  And so the story continued…….
Noel McClumpha
London, England, 2016
---
....somewhere on the road/my left ear.......continued....part 19c or is it 86b...........
....some days, sometimes, sometimes most days, but least-wise many days and lots of nights and lots of ways, you don't really know what's going on, you really don't know what's going on, you don't know what's going on in your life, in other people's lives, all over the place, anywhere, everywhere....I mean it's all just SO BIG anyway,....so, anyway.... it's noon now and I'm just stopped here, beside the highway of life, just taking it all in and just taking a break from driving and I've got a long way still to go to wherever and I hope that it all goes okay, but I just don't know that, and there's thoughts rushing through my head so fast and furious and frequent that I can't get them all down on paper quick enough, before they've just got up of their own accordion and flown away, right out of this car window and my arms just ain't long enough to reach out and grab them all back, entire songs, seemingly in just one line, just gone, so rich and big and beautiful and lost and moved on........ well I guess I'd better start this car and get back on the road, but I'm so tired and there's so much to see and do and so many people to meet and I haven't got a clue how long I've got left and I haven't got a recording device with me to put those songs and lines into, so I'll just have to remember them all and wasn't Keith Richards smart for having that tape recorder there at his bedside that night when that terrific riff to "Satisfaction" came busting and crackling through and I think that was '62 or '63, not sure.  I remember, my dear old Dad came walking out the house one day, when I was a young boy, and he was calling out to me to come and listen to this song that was playing on his (my) transistor radio and it was Bob Dylan, singing "Blowin' In The Wind", (though Dad had misheard his Christian name and called him John Dillon) and my Dad really loved it because this guy was singing with so much feeling and expression and that made my Dad really happy because he couldn't stand  to listen to what he called  "the bland, the mediocre and the soul-less" crooners ….he loved Dylan and then, of course, there was THAT harmonica and well, my Dad loved that too….(I found out a great many years later that when my Dad was a young sprig, he was a gold prospector, and that he used to sing and play the harmonica in the old pubs at  Widgiemooltha  or Salmon Gums or Grass Patch, or other places that were then, way out there in the distant back parts of Western Australia, a long time ago,  before he came back to town)……he so loved Dylan because of the way he sang and what he sang about and how he taught us to think about things and to write about them and to be brave and to stand up against those things and people we just knew were wrong or bad and so, of course, I learned to love Dylan too, seen him play only once so far, way back in 2000, but when I first heard him I was a Beatles fan…….I wish I had've been around and older in those Tumultuous Times and in those places, London and New York, but I wasn't and that's just how it is and I guess it probably had its down side too and all, but today, it seems that more young people know the truth of many things, but still too many don't, and so many of them worship their own era's false-gods and celebrity something-or-others and just get sucked in and up and used up and spat out by them, they haven't yet seen through  the cold, calculating profiteers who squeeze their money and life from them from birth to death, George Harrison saw through them in 'A Hard Day's Night'….the old ones know though, two world wars, one Depression, the oil price hikes of the 70's, several economic crises, political skullduggery and thuggery and even more wars have seen to that, so they've seen it all and they've seen through it all, just ask them, and today's young people, of course, they've got their own roads to travel and it ain't easy, it's not easy for any generation…..and history and fate can be brutally unkind and I remember my friend crying in 1989 when the Berlin Wall came down and he was NOT sobbing because he was happy that the people of East Germany were free at last from the vicious yolk of Communism, he was crying because, suddenly, the two Germanys were re-united again and he was terrified and fearful, because he'd already lived in Hell when both Germany and Russia had invaded his native Poland and he had lived through those daily horrors and even now, long after the fall of the Wall, he probably still feels the same……..
I understand where he's coming from and like him, I don't know the future….I was too stunned and numbed, to cry, when I saw the Twin Towers brought down and I guessed immediately who was behind it and so I'm tearful 'n' fearful too of what tomorrow might bring and we can all deal with these things with our minds wide open or our eyes closed up tight, but deal with them we must, and there are many ways of coping with various realities and just what works for you, might not work for someone else, it's hard to know what's the best way anyway…..but, for now, again,  I've got to push on and get some fuel at that small town down the road, so I'll see you when I see you and I'll wish for the best for you, que sera sera… . and I still miss Elvis and John Lennon and Ray Charles and Brook Benton and Ian Dury and Dusty and…..….I'll try to be home soon and I'll try to repay my sleep-debt someday, and I'll try to keep a good watch out for nasty creeps….…. somewhere on the road….
Noel McClumpha,
England
©2016
---